510 Thread CBD THC Vape Preheating Battery For all 510 Thread Vape Carts.
510 Thread CBD THC Vape Preheating Battery is the Standard Popular Vape cartridge 510 Thead Preahting battery to feature
variable voltage power settings. It introduces single button operation that allows you to pre-heat the cartridge 15s and choose
between three different vaping temperatures, giving you full control of your experience. The five button presses necessary to power
the device on also makes it somewhat child-proof.
350mah Power Capacity

3.7V Voltage Output

Rechargeable 1 hour time

Standard 510 Thread

5 Clicks Turn on/off

Kit including one M3 Battery+ USB

White Steel Black Color

50 Pcs Per Box

Works for all 510 Thread Vape Carts

USB Indicator Red Shows in Charging

USB Indicator Green Shows Full Charging

AAA Grade Li-ion Battery Cell

3 Clicks For Variable Voltage

2 Clicks For starting 15s Preheating

Color: White Black Steel Red Green Blue Purple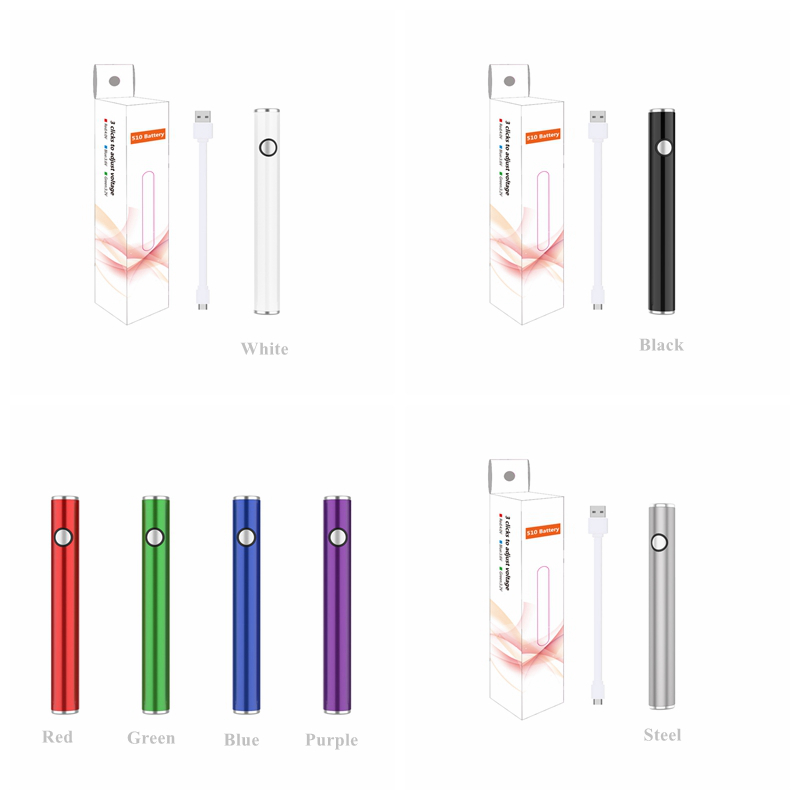 We are the 510 Preheating Vape Battery Manufacturer, if you are Oil Extractors or Dispensaries Owners or Cartridge Wholesalers

You could contact us by email : Jack@kelvinvape.com , or WhatsApp: +86 13428946705, we often can reach you within 24 Hours.
Please note: we don't sell to personal use, so if you buy for own use, don't send us inquiry. Thanks for your Cooperation.